About Our Company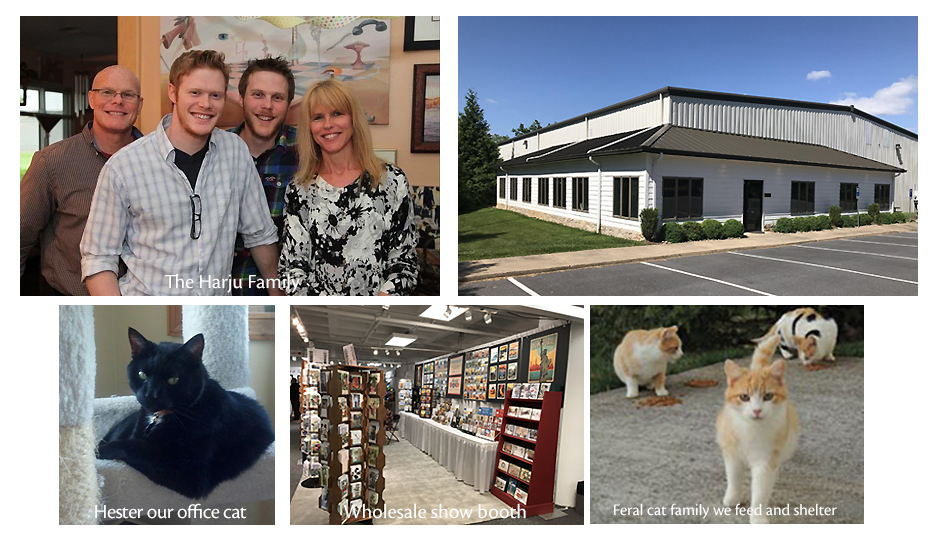 Pumpernickel Press started with a leap of faith by Bob Harju in the basement of his Leesburg, Virginia home in 1998. Starting with 20 designs of embossed boxed Christmas cards, the family-owned business is now one of the leading producers of quality embossed greeting cards with over 1,500 designs of boxed Christmas and everyday occasion cards. Immediate success allowed the family-owned business to move out of the basement, eventually buying and building west of the Blue Ridge Mountains in Berryville, Virginia. Along with their dedicated staff, the family business includes Bob's wife Skeeter and their son Ryan.
The business has experienced continued growth and Pumpernickel Press card lines are now distributed in the United States, Canada, the Caribbean, the UK, Europe, Russia, South & Central America, Australia and New Zealand. They are pleased to have an ever-growing fan base in both retail and business settings.
With all of these qualities it's no wonder people say "I only buy Pumpernickel cards!"
Quality Standards
What sets a Pumpernickel card apart from others is consistent quality, which is a top priority. Quality is never sacrificed for profit in any phase of production. All of Pumpernickel's vendor and business partners are expected to hold the standards they have set and expect. From innovative designs, superior fine art, and sculpted embossing produced from hand-tooled brass dies to the brilliant color printing on premium uncoated paper, each card is treated as a piece of art from concept to finish.
Environmental and Manufacturing Concerns
Pumpernickel is concerned for the environment and the welfare of small businesses in the United States. This is evident in all products. Pumpernickel Press cards are printed using agricultural-based inks on premium recycled paper containing a minimum 30% post-consumer waste. Pumpernickel appreciates and shares your concerns for products made in America- everything from the cards to the packaging is made here in the USA!
Giving back
Pumpernickel Press supports organizations that are committed to helping individuals in their communities and the environment by making donations and contributions to many causes each year. See the Charitable Giving page for a list of current recipients.